As promised, here is part 2 of my January 2023 reading recap. If you haven't read part 1, you can find it here. To learn more about each book, click on the cover to visit the publisher's website.
Here are the next five books I read during January, continuing in chronological order:
6) Stone Cold Touch by Jennifer L. Armentrout – Genre: young adult urban fantasy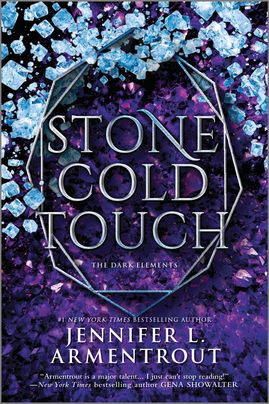 Publisher's Description: From the author of From Blood and Ash, one touch can heal in book two of the Dark Elements series…
Review: Before Christmas, I had read White Hot Kiss, the first book in the Dark Elements trilogy. Jennifer L. Armentrout is one of my favorite authors, thanks to her Blood and Ash series and her contemporary YA novel The Problem with Forever, and I'm finally getting time to read some of her earlier works. I'm also a pretty big urban fantasy fan, and one thing that I've always liked is when authors put a creative spin on classic legends like vampires or, in this case, gargoyles. In Stone Cold Touch, we get to explore the aftermath of book one's surprising ending by following Layla Shaw, a girl who is part gargoyle, part demon. In this universe, gargoyles are actually warriors called Wardens, whose job is to protect humanity by killing any demon who steps into the mortal world, all while hiding the truth of heaven, hell, and demons from the public. Because of Layla's mixed heritage, she has the unfortunate ability to suck out someone's soul if she kisses them. Of course, this greatly impedes her dating life, but that doesn't stop her from winding up in a love triangle—that is, until disaster strikes. However, Layla's more pressing issue is the mysterious something that is attacking her school and city, driving people insane and violent. When her powers start changing, though, she begins to fear that the malevolent force just might be herself.
Timeline: Once I got back into the series after the holidays, it only took me a few days to finish book two. Toward the end, it became very fast-paced, and I could not stop until I'd finished it. I then immediately had to start reading book three.
Rating: 3.5 out of 5 stars
7) Every Last Breath by Jennifer L. Armentrout – Genre: young adult urban fantasy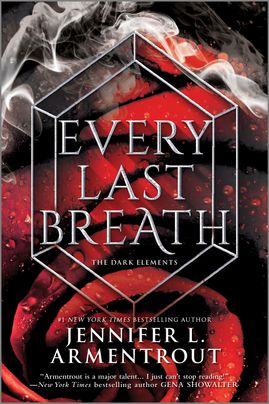 Publisher's Description: From the author of From Blood and Ash, each breath may be the last in the finale to the Dark Elements series…
Review: I found this to be a rather satisfying—and nerve racking—conclusion to the trilogy, despite the outcome of the love triangle. As a general rule, I try to avoid love triangles because I always, always choose the losing side. The good news, though, was that I liked both of Layla's love interests, so it wasn't too devastating. Apart from the romance, there were many plot twists in the main storyline, as well as some shocking deaths, so be forewarned! One thing I enjoyed about this series as a whole was that it explores the unique personalities and unexpected humanity of demons, including the devil, Lilith, and the Grim Reaper (make sure you call him Grim, though, otherwise you may end up losing your soul). I also grew to love the tattooed demon familiars, from the bloodthirsty hell-kittens to the cute little dragon, and even the large and sassy snake, Bambi. Overall, it was a pretty good series, and made me eager to read the spinoff Harbinger series, which you'll learn more about in my next post.
Timeline: Since this book was shorter than the previous one, I was able to read it in just two days. It was quite compelling, and utilized Jennifer Armentrout's classic technique of cliffhanger chapter endings that make the book impossible to put down.
Rating: 3 out of 5 stars
8) Kiss Her Once for Me by Alison Cochrun – Genre: LGBTQ+ adult contemporary holiday romance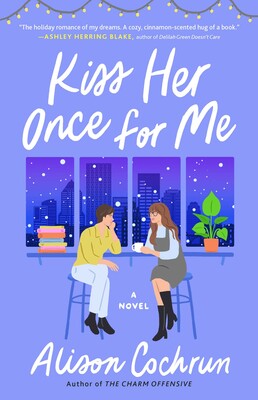 Publisher's Description: The author of the "swoon-worthy debut" (Harper'sBazaar) The Charm Offensive returns with a festive romantic comedy about a woman who fakes an engagement with her landlord…only to fall for his sister.
Review: Even though it was well after Christmas when my digital hold on this became available, I went ahead and read it, and it ended up being my favorite on this list. Although I hadn't read anything by this author before, the premise of this book sounded too good to pass up. It follows Ellie Oliver, an animator who recently got fired from her dream job and has been struggling ever since. Between her deadbeat mom, Portland housing prices, and the poor pay she gets at the coffee shop, Ellie's in major need of some cash. The solution comes in the form of Andrew, the coffee shop's young landlord who offers her part of his two-million dollar inheritance if she agrees to marry him for a year. Since she makes nothing off of her anonymous webcomic and is in danger of being evicted, she jumps at his offer. The problem is his stipulation that they spend the holidays with his family, who thought the playboy would never settle down and are eager to meet his mysterious new fiancée. After diligently rehearsing their fake romantic backstory, Ellie thinks she's ready to meet the family and get through this Christmas with her fake engagement intact. That is, until Andrew's sister, Jacqueline, walks in, whom Ellie has definitely met before: she's Jack, the girl Ellie fell in love with one snowy day last Christmas, then woke up the next morning to find it had all been a lie—or so she thinks. I positively loved this book, with its extremely complicated relationships, the slow unveiling of shocking secrets, and hilarious grandmothers who know everything, have zero filter, and are more than willing to meddle for the sake of love.
Timeline: Once I started this book, I simply could not stop. I listened to it at work, while driving, doing chores, and even taking a shower. It's an 11-hour audiobook, and even with working 9-hour days, I finished it in less than 24 hours.
Rating: 4.5 out of 5 stars, highly recommend
9) Echoes Between Us by Katie McGarry – Genre: young adult supernatural
Publisher's Description: Echoes Between Us is bestselling author Katie McGarry's breakout teen contemporary novel about a girl with everything to lose and the boy who will do anything to save her.
Review: I had read every Katie McGarry book leading up to this, and I always enjoyed the complicated inter- and intra-personal issues she depicts in her novels. This was the first book by her that I would classify as supernatural, though, which is something I typically don't read, but decided to try because I enjoy her writing style so much. One of the narrators is Veronica Sullivan, a teen with a brain tumor who can see ghosts—including that of her mother, who died from cancer years earlier. Veronica's dad is extremely protective of her, and she will do anything to make life easier for him, including not telling him about her worsening headaches and suspicions that her supposedly benign tumor is growing. The other narrator, Sawyer Sutherland, is an extreme adrenaline junkie whose need to escape the stress of an alcoholic mother, absentee father, and taking care of his young sister drives him to do increasingly dangerous and life-threatening cliff jumps. When Veronica and Sawyer are teamed up for a class assignment, they begin to recognize the seriousness of their problems, learn to stop pushing everyone away, and finally ask for the support they desperately need.
Timeline: This is a book that I started reading in February of 2020. I got about halfway through, then laid it down and didn't/couldn't pick it back up until almost three years later. That wasn't because it was boring or poorly written; it is actually a rather compelling read. I think the issue was that when I began reading it, I was going through some health scares of my own. For several months in 2019 and 2020, we thought I might have lymphoma, so reading a book about a girl my age with a potentially lethal tumor hit a bit too close to home. Thankfully, I did not have cancer, and after recovering from that scare, I finally felt like I was ready to finish the book. Once I began reading it again, it only took me about three days to finish.
Rating: 2.9 out of 5 stars
10) Dark Harmony by Laura Thalassa – Genre: adult dark paranormal/fantasy romance [content warning: sexual assault]
Publisher's Description: From bestselling indie author Laura Thalassa comes the final book in her smash-hit dark fantasy romance between a siren and the "bargainer" she owes countless favors to.
Review: This is the last book of Laura Thalassa's The Bargainer series, which I'd learned about on BookTube during the pandemic. It follows Callypso "Callie" Lillis, a siren who, on the cusp of adulthood, murdered her abusive stepfather then called upon "The Bargainer" to help her start a new life. "The Bargainer," aka Desmond Flynn, is a fae king who will gladly grant any favor you'd like, but the price is steep. Except, when Callie first called upon Des, and the many times after that, he never asked for payment; instead, a new bead was added to a magical bracelet that represented favors Callie would owe him one day. Flash forward several years, and suddenly he's returned in all his glory to collect his due. Only, the favor he wants is for her to use her private detective skills to solve a malevolent mystery in his home, the Otherworld. For decades, fae soldiers have been disappearing from all over the Otherworld, then reappearing in a magical coma, pregnant with unnatural, violent children. Des and other fae royals have been searching for the identity of the monster behind this, but with no luck. It is up to Callie to not only discover who the perpetrator is, but to also defeat him and free the Otherworld from his grasp. This final book presents many plot twists, desperate situations, and fierce characters who will sacrifice everything to save their kingdoms and people.
Timeline: This was another book that took me a long time to finish. I read the other books in the series in quick succession and read most of this one, then stopped for about a year before finally finishing it. I'm not sure why I stopped, since it is fast-paced and extremely compelling, but I am very glad I finished. This is definitely a book you'd sacrifice sleep for in order to learn the fate of your favorite characters.
Rating: 4 out of 5 stars
What are your thoughts on these books? Share in the comments below!
Check back soon for part 3.