Reading Recap January 2023 – Part 3
Here is the third and final part of my January 2023 reading recap. If you're looking for more book recommendations, check out part 1 and part 2 of this blog post series. To learn more about each book, click on the cover to visit the publisher's website.
Here are the last five books I read during January, continuing in chronological order:
11) Storm and Fury by Jennifer L. Armentrout – Genre: young adult urban fantasy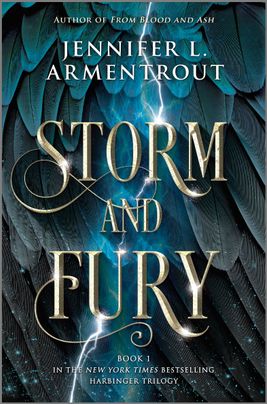 Publisher's Description: Meet Trinity Marrow, a girl with an explosive secret whose hiding place has just been discovered…
Review: In my last post, I reviewed Jennifer Armentrout's Dark Elements series. Storm and Fury is the first book of its spinoff series, The Harbinger. Something that I've noticed when reading Jennifer Armentrout books is that I always seem to prefer the spinoff series to the main one, and the same was true in this case. I felt that The Harbinger series was more interesting and intense than The Dark Elements, and I was more invested in what happened to the characters, particularly Zayne, who we met in the original series. This book follows Trinity Marrow, a half-human girl who has unique, deadly powers and who can see ghosts and spirits (yes, apparently there is a difference). Because of what she is, Trinity lives in hiding in a remote Warden colony, training for the day her celestial father calls upon her as the weapon she was born to be. In addition to dealing with partial blindness, Trinity now has to brave the world to find Misha, her bonded Warden protector whom she's grown up with and who was kidnapped in lieu of her during a raid on their colony. This is where Zayne comes in; he originally came to the colony to ask for aid in fighting a mysterious creature openly killing demons and Wardens alike in D.C., uncaring of humans who may stumble upon the bodies and discover the truth about heaven and hell. After the attack on the colony, though, Zayne is tasked with protecting Trinity as they try to kill two birds with one stone by finding Misha's kidnapper and the monster haunting Washington. One of my favorite things about this book, and the series in general, is the cast of characters. We are reunited with old friends like Roth, Layla, Nikolai, and everyone's favorite demon-broker: Cayman. We also get to meet some new characters, like Peanut, a teenaged ghost who died in the 1980s and has deemed Trinity his best friend. There are a bunch of surprising secrets and plot twists, so be prepared!
Timeline: This book was very addictive. I started it mid-work week and simply couldn't put it down. Even at 500+ pages, I finished it in two days.
Rating: 3.5 out of 5 stars
12) Rage and Ruin by Jennifer L. Armentrout – Genre: young adult urban fantasy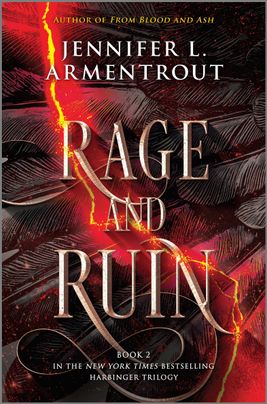 Publisher's Description: Book two in the New York Times bestselling Harbinger series, perfect for fans of romantic fantasy.
Review: This second book explores the aftermath of the betrayal Trinity suffered at the end of the first book, and the new connection between her and Zayne. As they try to adjust to their new bond and their forbidden feelings for one another, they also must find the mysterious "harbinger" terrorizing Washington D.C. and find a way to subdue him before more lives are lost. There is quite a bit of action in this book, and it introduces us to some horrifying supernatural creatures that could easily fuel nightmares. My favorite part of the book was the last quarter of it. It's very fast-paced and emotional, all leading up to its absolutely shocking ending. You'll definitely want to have the last book ready to go when you finish this one.
Timeline: Life kept getting in the way while I was reading this book, so it took me almost a week to finish it. However, I binge-read the last several chapters well into the night because I was so surprised by the turn of events happening.
Rating: 3.8 out of 5 stars
13) Grace and Glory by Jennifer L. Armentrout – Genre: young adult urban fantasy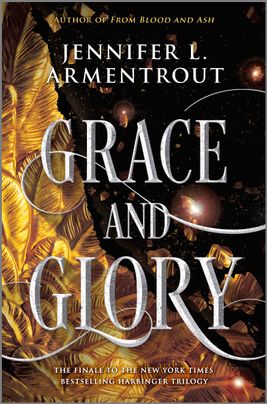 Publisher's Description: The finale to the New York Times bestselling Harbinger series.
Review: After the shocking end of Rage and Ruin, and a late-night text rant to my best friend about it, I immediately started reading this third book. Thankfully, it picks up exactly where the last one left off, allowing us to instantly dive into the unexpected, mind-boggling situation Jennifer Armentrout orchestrated. Throughout the entire book, we are bombarded with unpredictable plot twists and shocking revelations about Trinity, Zayne, and even Peanut. Alongside these, we meet some unexpected allies as they all work together to take down a corrupt enemy and prevent the apocalypse. I was on the edge of my seat through this whole book, but its satisfying ending made it all worth it. Jennifer Armentrout also sets up the perfect scenario for a new spinoff series, which I sincerely hope she writes. Overall, it's one of my favorite Jennifer Armentrout series, even over Wicked, although Peanut does remind me a lot of Tink.
Timeline: Life tried to interfere with my reading time while I was reading Grace and Glory, too, but I refused to let it. I gladly stayed up until three o'clock in the morning reading this because I desperately needed to know what happened to Zayne and the others.
Rating: 4 out of 5 stars
14) There's Something About Merry by Codi Hall – Genre: adult contemporary holiday romance
Publisher's Description: Curl up this Christmas with a fun, festive romcom full of Christmas tree farm shenanigans and a romance between an outdoorsy single dad and the kind, ambitious, Christmas-loving neighbor he can't stop thinking about.
Review: I swear, this is the last Christmas book I'm reading this season! This one is a dual narrative about Merry Winters, a woman who's finally learned to love herself and is now ready to find someone to share her life with, and Clark Griffin, a single dad who recently started working at Merry's family's tree farm. Both of them create anonymous profiles on a dating app and quickly become besotted with one another, but Clark isn't looking for a long-term relationship. He's extremely protective of his son and doesn't want to date someone who might leave them like his ex-girlfriend did. Nevertheless, Clark and Merry grow closer, both in-person and online, but when the truth about their identities is revealed and Clark's past returns to haunt him, they have to decide whether to take a chance on each other. My favorite aspect of this book is its humor. There are tons of awkward, hilarious scenarios that made me almost laugh out loud at work while listening to it.
Timeline: Instead of reading this, I listened to the audiobook. The issue I have is that it is an Audible-only audiobook, a concept with which I disagree wholeheartedly because it prevents libraries from offering audio-versions of such books to people who lack the money necessary to buy them. Regardless, it is a nearly 11-hour audiobook, and it took me about four days to complete.
Rating: 3 out of 5 stars
15) Storm Siren by Mary Weber – Genre: young adult fantasy
Publisher's Description: In a world at war, a slave girl's lethal curse could become one kingdom's weapon of salvation. If the curse—and the girl—can be controlled.
Review: This is another book recommended to me by the same friend who suggested The Girl Who Fell Beneath the Sea (see part 1). I had planned to read something different off of my ever-increasing TBR pile, but when I read the synopsis of this book, I was so intrigued that I decided to read its series first. The titular storm siren is Nym, a slave girl who was born with a cursed power that has gotten every other Elemental of her kind killed in infancy. It is also the uncontrollable power that Nym unwittingly used as a young child which caused her parents' deaths, something she has never forgiven herself for. When she is bought by her fifteenth owner after an accidental, lethal display in the slave market, she is offered training for her abilities—but only if she uses them at the behest of her owner to help her country win its decades-long war. As the mysterious Eogan teaches her how to control her powers, she's thrust into a web of politics, secrets, and monsters with even more sinister magic than her own. This is a pretty fast-paced book, with several plot twists, including one that happens on the last page.
Timeline: I started this book on a Sunday and finished it that Tuesday morning. Its fast pace makes it feel shorter than the 333 pages it actually is, but I was able to breeze through it.
Rating: 3 out of 5 stars
What are your thoughts on these books? Share in the comments below!