Here is the second and final part of my February 2023 reading recap. If you haven't read part 1, you can find it here. To learn more about each book, click on the cover to visit the publisher's website.
Here are the last six books I read during February, continuing in chronological order:
7) Enemy's Queen by Frost Kay – Genre: new adult dark fantasy
[Content Warning: sexual assault, abuse, incest, and Stockholm Syndrome]
Publisher's Description: Monsters aren't always hideous.
Review: This is the third book of The Aermian Feuds series (to read my reviews of books one and two, please follow the above link). In addition to Tehl and Sage's point of views from the earlier books, this one also offers us the perspectives of Sam, Tehl's princely brother, and Jasmine, a village huntress whom we were introduced to previously. The book primarily follows Sage, but also Jasmine, as they are abducted by enemies of Aermia. They are taken to the enemy Warlord's stronghold, where they suffer emotional, mental, and physical abuse. Now, even though I already provided a content warning above, I feel obliged to emphasize the severity of the sexual assault and abuse in this book. It is definitely not like the other books in the series, which mostly glossed over the subject. In this one, we see many young women pregnant as a result of kidnapping and rape, though none of it ever occurs on the page. We see the characters being threatened with it, but mostly we see Sage and Jasmine being brainwashed by their captors. As for Tehl and Sam, through their eyes we see the aftermath of Sage's abduction and the efforts the court is taking to get her and Jas back. I'm not going to lie, this was a difficult book to read, especially since we also hear the Warlord's story of how he was a victim of incest, though it of course does not excuse his actions. If any of the above subjects are triggers for you, please DO NOT read this book! They are not normally triggers for me, but even I had a hard time finishing this book.
Timeline: Due to the subject matter, I wanted to finish this book as quickly as possible. So, I listened to the audiobook at 1.8 speed, enabling me to finish it in a little over a day even though it is technically 12 and a half hours long.
Rating: 2.4 out of 5 stars (due to uncomfortable subject matter, not poor writing)
8) King's Warrior by Frost Kay – Genre: new adult dark fantasy
[Content Warning: aftermath of sexual assault, abuse, and Stockholm Syndrome]
Publisher's Description: In this thrilling fourth book in this internationally bestselling series, Sage and Tehl will raze the world to protect their people and each other from the one man that threatens to tear them apart.
Review: Book four of The Aermian Feuds series, this one delves deeply into the physical, psychological, and political aftermath of Sage and Jasmine's abduction and abuse. I will warn: it was difficult to read the lingering effect of Stockholm Syndrome on the characters, especially once the life-changing repercussions are uncovered. Reading how the victims at least partially blame themselves was also painful, but Frost Kay definitely succeeds at inducing sympathy for both the characters and real-life victims of such crimes. She also did a good job of making me furious at and disgusted by the Warlord and his soldiers for what they did to these poor women, and my fury and disgust was only fueled by the chapters in the Warlord's POV that occur throughout the book. In addition to this huge inner- and inter-personal conflict, the plot also focuses on how the Aermian crown will retaliate against the Warlord and his kingdom.
Timeline: Like the previous book in the series, I wanted to get through this one as fast as I could, and thus also listened to it at rapid speed. I had to take a few mental health breaks from it, however, so it took me two days to read.
Rating: 3 out of 5 stars
9) Spy's Mask by Frost Kay – Genre: new adult dark fantasy
[Content Warning: aftermath of sexual assault, abuse, and Stockholm Syndrome]
Publisher's Description: Five unlikely allies. One impossible battle. Uniting the kingdoms against the monster that plagues them might be the only thing that stands between the world and complete destruction.
Review: The second-to-last book of The Aermian Feuds series, this one involves more action than the previous one as Sage, Tehl, and their allies engage the Warlord in a nerve-wracking battle. This is also the book in which Sage and Tehl start really growing closer to one another. There's even a heartwarming scene where Tehl makes up and sings Sage a lullaby to help sooth her amidst her many nightmares, and it was probably my favorite part of the book—of the whole series, actually. I also enjoyed seeing Jasmine and Sam connect more. He cares for and accepts her as she is, even when she doesn't accept herself, and gives her the support she needs, which I found rather touching. We're also introduced to a new character's perspective: that of Dorcus, a teen girl who was born in the Warlord's kingdom. I liked her plotline, and it gives us more insight into the kingdom and how many of its "citizens" oppose the Warlord and his laws.
Timeline: Subject-wise, this book was not as bad as the last two had been, so I was able to listen to its audiobook at a more normal pace. It was intriguing, though, enabling me to breeze through it in two days.
Rating: 3.3 out of 5 stars
10) Court's Fool by Frost Kay – Genre: new adult dark fantasy
[Content Warning: aftermath of sexual assault, abuse, and Stockholm Syndrome]
Publisher's Description: Outnumbered and outgunned, Tehl and Sage have to make the most difficult decision of their existence; follow their moral code, or give into the darkness and end Zane's tyranny once and for all.
Review: The final book in The Aermian Feuds series, this one deals with the aftershocks of the battle in book five and explores the difficult actions Sage and her friends and family must take to finally extinguish the Warlord and his influence. It has Sage and Jasmine facing their pasts head-on, which may be a triggering moment for some people. However, it does showcase Sage and Jasmine's undeniable strength and resilience, which was quite inspiring. Overall, I liked this finale, even though it did anger me at times. I thought the ending was rather satisfying.
Timeline: There were parts of this book that I had to speed through, plus it was so compelling that I finished listening to it in a single day.
Rating: 3.2 out of 5 stars
11) Star Wars: The Clone Wars: Stories of Light and Dark by E. Anne Convery, Greg van Eekhout, Jason Fry, Lou Anders, Preeti Chhibber, Rebecca Roanhorse, Sarah Beth Durst, Tom Angleberger, Yoon Ha Lee, and Zoraida Córdova – Genre: science-fiction anthology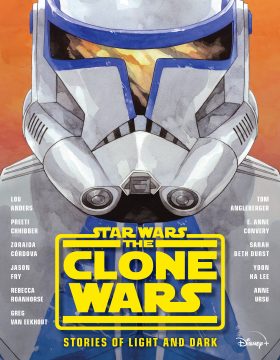 Publisher's Description: From Anakin to Yoda, Count Dooku to Darth Maul, this exciting anthology will recount different explosive events from The Clone Wars from the points of view of everyone's favorite characters – with each character written by a different popular author.
Review: I'm a big fan of The Clone Wars TV series, so I was very excited when my coworker, a fellow Star Wars fan, told me about this collection. Nearly all of the stories are written retellings of specific episodes or arcs in the show, but the last story is brand new and was written by Dave Filoni's wife, which was interesting. My favorite story, hands down, was "Kenobi's Shadow," which retells the story of Clone Wars season 5 episode 16 "The Lawless". It offers more depth into Obi-Wan's thoughts and actions as he attempts to rescue Satine Kryze, and it provides us with more banter between Obi-Wan and Satine, which is always a plus, if you ask me.
Timeline: I binge read this whole collection in a day, probably because I rushed through the first nine stories so I could get to Obi-Wan's.
Rating: 4 out of 5 stars
12) This Woven Kingdom by Tahereh Mafi – Genre: young adult fantasy
Publisher's Description: Clashing empires, forbidden romance, and a long-forgotten queen destined to save her people—Tahereh Mafi's first in an epic, romantic trilogy inspired by Persian mythology.
Review: I had read Tahereh Mafi's Shatter Me series when I was a teenager in my dystopian phase, and it was one of my favorite book series. Now that I'm more into fantasy, I decided to try reading this, since I already knew I liked her writing style. The fact that it's based on Persian mythology was also appealing because I haven't read many books inspired by that culture, so I was intrigued. The book definitely lived up to my expectations. It featured a lot of Jinn lore and did a good job describing it without info-dumping. The female protagonist, Alizeh, is a secret Jinn girl who works as a servant for the nobility, using the servant garb to mask her color-changing ice-blue eyes, lest they give away the truth of her lineage. Even though Ardunia signed a treaty years ago granting equality to both Jinn and Clay (humans), Jinn are still feared and experience prejudice thanks to their inherent power. It also doesn't help that there is a prophecy that the heir to the Jinn throne will be the downfall of the Ardunian king. The book also gives us the dual perspective of Kamran, the Ardunian crown prince who has recently returned to court and whom his grandfather, the king, keeps pressuring to marry and start producing heirs. When Kamran first sees Alizeh, he thinks she's a spy, but as he gets to know her better, he changes his stance and instead tries to protect her from his grandfather, who is convinced that she's the prophesized Jinn who will destroy him. There are several plot twists throughout the book, particularly toward the end, and the last line presents quite the cliffhanger, so be prepared to suffer until you can get your hands on the recently-released second book.
Timeline: This was a compelling read, so even though it is 512 pages and I read it during the work week, I finished it in three days.
Rating: 4.5 out of 5 stars
What are your thoughts on these books? Share in the comments below!
Be sure to check back next month to see the recap of my March reads.