In March, I read a total of 13 books, with a mix of YA and adult fantasy, romantic suspense, and a few Star Wars novels. To learn more about each book, click on the cover to visit the publisher's website.
Here is the list of the first six books I read this month, in chronological order:
1) Star Wars: Stories of Jedi and Sith by Roseanne A. Brown, Sarwat Chadda, Delilah S. Dawson, Tessa Gratton, Michael Kogge, Sam Maggs, Michael Moreci, Alex Segura, Vera Strange, and Karen Strong – Genre: science-fiction anthology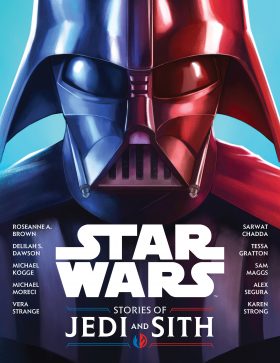 Publisher's Description: The eternal fight between good and evil… The brave Jedi vs the devious Sith!
Review: I'm a huge Star Wars fan, so I enjoyed reading new stories about some of my favorite characters like Obi-Wan Kenobi, Qui-Gon Jinn, Darth Maul, and even Clone Wars villain Asajj Ventress. There are stories featuring other characters, as well, ranging from Yoda to Vader to Rey, so the collection doesn't focus on any one era. We get to see more of Obi-Wan and Anakin's heroic antics during the Clone Wars, and even get a glimpse into Qui-Gon Jinn's mind as he begins questioning the Jedi Council and the Order's modus operandi. This short story collection also explores the rare perspectives of Barriss Offee, the Clone Wars Jedi turned traitor, and Emperor Palpatine. In Barriss' story, we see how she begins to mistrust the Jedi Order and learn what drives the drastic action she ultimately takes in season 5 of the TV show. I found this somewhat interesting, but the perspective I thought was really compelling was Palpatine's. In his story, we delve deeper into his origins and how he rose to be such a powerful Sith Lord, including the machinations and manipulations he made to further his political career.
Timeline: There are a total of 10 stories in this anthology, but it was relatively short, with the audiobook only being 6 hours long. Considering that, even though I wasn't interested in some of the stories, it still only took me a day to finish.
Rating: 3.2 out of 5 stars
2) Partners in Crime by Alisha Rai – Genre: adult romantic suspense
Publisher's Description: Indian Matchmaking meets Date Night in this fun, romantic adventure by Alisha Rai — "One of the very brightest romance writers working right now." (Entertainment Weekly)
Review: Although it is considered just straight-up romance, there is quite a bit of suspense and action in this novel. We start with Mira Patel, an Asian-American accountant who has been happily estranged from most of her family since she was a teen. The only person she kept in contact with, her aunt, recently passed away, but she's dealing with it like she has everything else in her life. That is, everything except her love life. Despite the numerous attempts by a renowned match-maker, Mira just can't find the right guy. Fresh off being dumped by her latest match, Mira goes to her aunt's lawyer expecting to settle her inheritance. What she didn't expect was to see Naveen Desai, the first man she matched with and whom she broke up with over text. Naveen is just as surprised to see her, considering she had lied about her name and family the entire time they were dating. Eager to never see each other again, they end the meeting as quickly as possible, only to then get kidnapped together! What ensues is exciting, humorous, and at times romantic escapades as Mira and Naveen must work together to unravel the mysterious business of Mira's family's criminal past in order to save themselves and the people they love most—including each other.
Timeline: This is a very fast-paced book and combined with the many plot twists towards the end, I read it in only two sittings, despite it being 400 pages.
Rating: 4.3 out of 5 stars
3) The Bridge Kingdom by Danielle L. Jensen – Genre: adult fantasy
Publisher's Description: What if you fell in love with the one person you were supposed to destroy?
Review: I have heard a lot about this series over the last few years. I love fantasy and the enemies-to-lovers trope, so I finally decided to give this book a try. I was not disappointed. Right off, we discover just how strong and powerful (though not in a magical way) the female protagonist, Lara Veliant, is. Her kingdom, Maridrina, has suffered for years because of the Bridge Kingdom, which holds a virtual monopoly on world trade through control of their sheltered, miles-long bridge. In order to take down the Kingdom and help Maridrina gain control of the bridge, Lara poisons her numerous half-sisters to become the chosen princess bride her father will "gift" to the young King Aren of the Bridge Kingdom. As a trained assassin, her mission is to infiltrate the royal family to learn how best her father's army can invade and capture the kingdom. What she doesn't count on is slowly falling for her husband and his people, making her question exactly where her loyalties should lie. It was interesting to read both Lara's and Aren's perspectives, since the reader obviously knows Lara's hidden intentions behind the wedding while Aren has entered the marriage bargain in good faith. There are a few plot twists, and the cliffhanger ending will definitely have you needing to get your hands on the second book as quickly as possible.
Timeline: This was a rather intriguing read, so I finished its 12-hour audiobook in less than three days.
Rating: 4 out of 5 stars
4) The Traitor Queen by Danielle L. Jensen – Genre: adult fantasy
Publisher's Description: A queen in exile. A king in chains.
Review: Book 2 of The Bridge Kingdom series, this one opens shortly after the events of the first book. Lara is trying to come to terms with what happened to the man and people she has grown to love, and is filled with regret for the role she played in it. Determined to right her wrongs, she enlists the help of old and new allies as she attempts to free both her husband and their country from her father, a king whom she now realizes is a liar and tyrant. The catch is that she must do this all without getting caught, because both her home country and her new one wish her dead. This book has more plot twists than the previous one and is much more action-packed, with a nerve-wracking ending that left me on edge the entire time. While this is not the end of the series, it is the conclusion of Lara and Aren's story, with the next books focusing on other characters.
Timeline: Since this book was so fast paced and nerve-wracking, I hardly put it down, finishing it in two days.
Rating: 4.2 out of 5 stars
5) The Inadequate Heir by Danielle L. Jensen – Genre: adult fantasy
Publisher's Description: Return to the world of The Bridge Kingdom in this sensuous fantasy full of romance and intrigue that is perfect for fans of From Blood and Ash and A Court of Silver Flames.
Review: The two books listed in the above description are some of my favorites, so I knew this one was going to be good. The third book in The Bridge Kingdom series, this one shifts focus to Prince Keris Veliant, Lara's brother, and Zarrah, heir to the Valcottan throne. We met both of them briefly in book 2, but we delve much deeper into their characters in this one. Keris is the bookish crown prince of Maridrina who hates his title and his father for what he has done to his sisters and subjects. Zarrah is a feisty warrior loyal to her aunt, the Empress of Valcotta, and who has a long-standing vendetta against the Veliant family for killing her mother. When Keris and Zarrah meet on the dark streets of a war-torn city, all they know is that they're from opposing kingdoms. Keeping their identities hidden, they continue to meet up as Keris helps Zarrah and her army fight against Maridrina. Each night they grow closer together, falling for one another, until one morning when the light of day reveals their secrets and Zarrah is captured. Keris must then learn to play the delicate game of politics as he desperately tries to keep Zarrah safe without his father unmasking him as a traitor. This may be my favorite book in the series thus far, even though there are several elements of the story that we already know and have experienced in the previous one. My only other critique is about the audiobook version, which has an all-too-realistic sound effect for the scene in which someone falls out of a tower to their death. It wouldn't have been so bad if it was just mentioned once, but each time one of the narrators remembers it, the sickening smack sound is repeated. Nevertheless, the book still left me anxious for the next one, which has yet to be published at the time of writing this blog post.
Timeline: This book's pacing is more on parr with the first book, and it took me that same amount of time to read this one: three days.
Rating: 4.3 out of 5 stars
6) These Infinite Threads by Taherah Mafi – Genre YA fantasy
Publisher's Description: Full of explosive magic, searing romance, and heartbreaking betrayal, this breathtaking sequel to This Woven Kingdom is from the award-winning and bestselling author of the Shatter Me series and is perfect for fans of Leigh Bardugo, Sabaa Tahir, and Tomi Adeyemi.
Review: I read This Woven Kingdom back in February (my review for which can be found here), and its major cliffhanger ending left me in desperate need for this sequel. To be honest, I didn't like this one nearly as much as I did the first. It starts by reiterating the end of book one, which may have been nice if I had read the first book when it originally came out and had to wait a year in between, but since I only had to wait a month, it felt unnecessarily repetitive. Despite this, the plot itself was fine. Like the previous one, it follows both Alizeh's and Kamran's points of view. Alizeh has been kidnapped by Cyrus, the young king of Tulan, who intends to make Alizeh his wife as per his deal with the devil, Iblees. At first, Alizeh adamantly refuses Cyrus, but as she learns more about her destiny as the long-lost queen of the old Jinn kingdom, she begins to reconsider. Meanwhile, a badly wounded Kamran must deal with the aftermath of Cyrus' attack and the betrayal he and his people have experienced by his grandfather's hand. Kamran is determined to get Alizeh back before she marries Cyrus, even though he's not quite sure whether he can trust her. New threats keep emerging, however, and Kamran must find a way to overcome them if he is to save himself, his kingdom, and the mysterious Jinn girl. The main thing I did not like about this novel was the uncertainty about who Alizeh is supposed to end up with. We still have Kamran's perspective, not Cyrus', which makes me think it's still supposed to be Kamran, but Alizeh seems to be growing closer to Cyrus over the course of the book.
Timeline: I was not that interested in this book the further I went along, so I started listening to it at faster and faster speeds to get it over with. Even doing this, though, it took me three days to finish.
Rating: 3 out of 5 stars
What are your thoughts on these books? Share in the comments below!
Check back soon for part 2.