Thus far, April has been my least productive reading month, since I only managed to read 7 books during it. This is largely due to a career development that happened last month, which I hope to post about shortly. Of the 7 novels I read, they were a decent mix of YA and adult, fantasy and contemporary. As always, to learn more about each book, click on the cover to visit the publisher's website.
Here is the list of books I read this month, in chronological order:
1) When You Wish Upon a Lantern by Gloria Chao – Genre: YA contemporary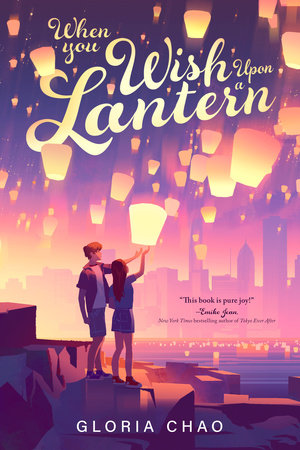 Publisher's Description: Acclaimed author Gloria Chao creates real-world magic in this luminous romance about teens who devote themselves to granting other people's wishes but are too afraid to let themselves have their own hearts' desires—each other.
Review: I've been trying to read more Asian-American novels, and since this book also featured a friends-to-lovers romance (my favorite romantic trope), I figured I try it. It is a dual narration following Liya, a teen who recently lost her beloved grandmother and whose family runs a Chinese lantern store, and Kai, whose family runs a bakery in the same neighborhood. Liya and Kai have been friends since childhood, and both have secretly fostered crushes on each other for years. However, months earlier, just as they were ready to reveal their feelings, Liya accidentally puked on Kai, resulting in both of them feeling like they've missed their shot with one another. That is, until their families' stores are in trouble, and they decide to work together to try to save their families' businesses, all while bringing a little wish-granting magic to their community. I thought this novel was sweet and cute, though I didn't get sucked into it for some reason. Maybe because the narrators seemed too naïve for my taste? I think this book would appeal more toward the target YA demographic who could relate more to the characters, but since I'm an adult reading teen fiction, I found it a little dissatisfying.
Timeline: Since I wasn't really interested in this novel, I didn't listen to it religiously. Because of that, even though I listened to it at a fast pace, it still took me three days to finish.
Rating: 2.8 out of 5 stars
2) First Love, Take Two by Sajni Patel – Genre: adult contemporary romance
Publisher's Description: In this delightful second chance rom-com, a hardworking doctor-in-training discovers that her new roommate is an irresistible ex.
Review: While browsing in a bookstore a couple of months ago, I stumbled upon this novel. It's actually the second book in The Trouble with Hating You series, and I have not read the first book, yet. However, as with many contemporary romance series, each book focuses on a different couple, so I was still able to follow the plot of this one easily. It follows Preeti Patel, an Indian American woman who feels immense pressure from her family and community to marry a nice, Indian man. The one time she tried to do something for herself by dating a Black man whom she actually loved, her mother had a heart attack from the stress and social gossip surrounding her daughter's "scandalous behavior." Since then, Preeti has dated exactly who her family wants her to, and now that she's graduating medical school, they want her to marry the nice but boring Indian man they set her up with. That, combined with the stress of trying to find a doctorial job, has Preeti desperately needing a break. Thankfully, her friend has offered up her apartment as a cozy escape. The only problem is the roommate: Daniel Thompson, her ex and the only man she's ever loved. This is an amazing book filled with the complexities of inter-cultural relationships and the pressure one feels when trying to satisfy family, community, and oneself. It also delves deeply into Indian culture and the self-sacrificing role women have in it, which I found very informative and enlightening. My favorite part of the novel is Daniel, because he's super sweet and considerate, and seeing how he helps Preeti through her anxiety and panic attacks is just so heartwarming. I highly recommend this to any contemporary or romance reader!
Timeline: This book was so good that I could not stop reading it. I breezed through it in less than two days.
Rating: 4.5 out of 5 stars
3) The Kiss Quotient by Helen Hoang – Genre: adult contemporary romance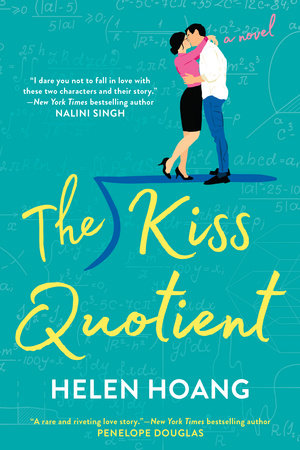 Publisher's Description: A heartwarming and refreshing debut novel that proves one thing: there's not enough data in the world to predict what will make your heart tick.
Review: After finishing First Love, Take Two, I wanted to read other romances that featured characters with mental disorders, like Preeti's anxiety. That's how I discovered The Kiss Quotient, whose female protagonist, Stella Lane, has Asperger's. Stella has always struggled with relationships, and after her most recent dating fail, she decides to get "professional" help. Enter Michael Phan, the escort Stella hires to teach her how to be successful in the bedroom. Despite desperately needing the money, Michael doesn't feel comfortable being Stella's instructor, not because he doesn't like her, but because he does and hates the clinical, step-by-step lesson plan approach she takes. After reluctantly agreeing to a trial run, they both start to realize that this emotionless partnership is slowly turning into something much more. As to be expected from the description, this book is more sexually explicit than most I read, though it was interesting to see their interactions described so scientifically from Stella's perspective, rather than romantically, as other novels typically do. I also enjoyed seeing Michael's struggles with changing his behavior to better suit Stella's neurodivergent needs and seeing Stella's slow realization of her feelings and her confusion regarding what to do about them.
Timeline: This book was quite compelling, and although I had a lot of work stuff happening while reading it, I finished in three days.
Rating: 3.5 out of 5 stars
4) The Bride Test by Helen Hoang – Genre: adult contemporary romance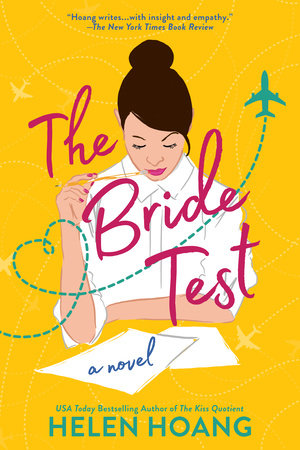 Publisher's Description: From the USA Today bestselling author of The Kiss Quotient comes a romantic novel about love that crosses international borders and all boundaries of the heart…
Review: The second book in The Kiss Quotient series, this one was rather different from the first and very intriguing. It opens in Vietnam, where the protagonist, Esme Tran, unexpectedly finds hope for a better life for herself and her young daughter in the form of an American woman looking for a bride for her Vietnamese American son, Khai. Khai Diep, whom we briefly met in the first book, has autism, and after losing his best friend as a teenager, has chosen to simply avoid any and all extreme emotions, because there is no grief without love. Since he's never had a romantic relationship, his mom chooses to meddle by moving Esme across the world to live with Khai for the summer. Esme knows her and her family's future depends on seducing Khai and convincing him to marry her at summer's end, but he seems immune to her charms. The only thing that they connect over is the search for Esme's American father, who left before she was born and left behind only a blurry picture and nickname. Khai enjoys the mystery and the time it gives him with Esme, and though they grow closer, he remains steadfast in his belief that he cannot love. As the summer comes to a close, the question remains: will Khai learn to love Esme and accept her secret daughter, or will everyone end up back where they started? This book was a lot deeper than I expected, detailing the struggles autistic people have with emotions like grief and portraying the economic troubles many Vietnamese face. It's a complex and nuanced novel that has had a lasting impact on me.
Timeline: This book was quite interesting, if at times heavy, but I listened to it in three days' time.
Rating: 3.7 out of 5 stars
5) The Heart Principle by Helen Hoang – Genre: adult contemporary romance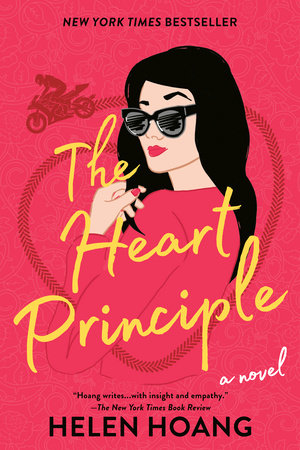 Publisher's Description: A woman struggling with burnout learns to embrace the unexpected—and the man she enlists to help her—in this new New York Times bestselling romance by Helen Hoang.
Review: The third and final book in The Kiss Quotient series, this one was surprisingly relatable for me, given my own perfectionism, burnout, and family situation. Anna Sun is an internet famous violinist, whose unexpected success and the immense pressure she places on herself to be perfect has left her with crippling burnout. The only thing that seemed to be going well in her life was her relationship with her long-time boyfriend—until he shocks her by declaring he wants to see other people before deciding to marry. Her rebellious response is to serial date, a plan which goes awry with the first person she's matched with on a dating site. Quan Diep is finally getting back in the dating game after suffering from and surviving cancer. When he matches with and meets Anna, they instantly form an unexpected bond, each understanding and accepting the other on a level neither has ever experienced before. But when Anna's family suffers a tragedy and they force her into a soul-breaking care-taking role, she must decide if she is going to stand up for herself and the man she wants, or if she's going to continue on the path of least resistance and let others dictate her life. Like the other books in this series, this was not a light and fluffy read. It portrays the stigma surrounding mental health, the toxicity of perfectionism, and the heartbreaking struggles and unglamorous tasks involved with caretaking. I thought this was an especially important book dealing with many prevalent issues in today's society. I also loved how it depicts the multifaceted nature of love. It shows how love can be romantic and passionate sometimes, but also how it is present in simple actions like stopping by and checking in that you're okay or offering you a weekend escape so you can simply catch up on sleep. It is one of the most accurate portrayals of love I've ever seen or read, and I would highly recommend it just for that.
Timeline: I read this book more quickly than the other two, I think because it felt like looking in a foreseeing mirror at times, showing me what my future may look like. I desperately needed to know how it ended, so I finished it in two days.
Rating: 4.2 out of 5 stars
6) The Princess Will Save You by Sarah Henning – Genre: YA fantasy
Publisher's Description: The Princess Will Save You is a YA fantasy adventure, an homage to The Princess Bride in which a princess must rescue her stable boy true love, from the acclaimed author of Sea Witch, Sarah Henning.
Review: The first book in the Kingdoms of Sand and Sky series, it genderbends the damsel-in-distress trope. Amarande is the princess of Ardenia, trained to be a warrior like her father. When news arrives that the King is dead, Amarande must deal with the grief of losing the only parent she's ever known, as well as the sexist stipulation that she has to marry if she wants to inherit the crown. As the neighboring kingdoms try to win her hand, one decides to force it: they kidnap Luca, her stable boy, best friend, and beloved. Rather than submitting to the kingdom's request for her to marry their prince in order to get Luca back, she decides to hunt the kidnappers down herself and free him. As she braves the treacherous desert, enemy warbands, and assassins, Amarande will need to use every skill she has as she fights for herself, her love, and her kingdom's future. There are a lot of plot twists in this novel, some I predicted, some I didn't, and its shocking ending will leave you in desperate need for the next book.
Timeline: This was such a compelling read that I couldn't stop listening to it. Despite it being twelve hours long, and reading it during the work week, it only took me two days to finish.
Rating: 3.8 out of 5 stars
7) The Queen Will Betray You by Sarah Henning – Genre: YA fantasy
Publisher's Description: The breathtaking sequel to Sarah Henning's The Princess Will Save You–a brilliantly-executed YA fantasy homage to The Princess Bride.
Review: The second installment of the Kingdoms of Sand and Sky trilogy, it picks up not long after the end of the previous book. Both Amarande and Luca have to face the shocking truths of their pasts and figure out what their futures will look like, all while fighting enemies they didn't know they had. They also must learn how to ensure their relationship survives the stress and distance necessary for each to protect their kingdoms. I know this is a pretty vague description, but to give more detail is to really spoil the many plot twists in the first book. I will say that I found this one less interesting, mostly because it was less action-packed and focused a lot more on political intrigue. There are murders and assassination attempts made, though, particularly toward the end of the book, which is very fast-paced and nerve-wracking, so be prepared.
Timeline: As I said, this book was less interesting to me, so it took a while to get into it. Even then, it took me almost a week to finish the 15-hour audiobook.
Rating: 2.9 out of 5 stars
What are your thoughts on these books? Share in the comments below!
Be sure to check back next month to see the recap of my May reads.