Back in January, I read 15 books. In February, since the month is a little shorter and I had a medical emergency halfway through it, I only managed to read 12. Most of the novels were YA fantasy, but I did read an adult contemporary and a couple adult Star Wars books. To learn more about each book, click on the cover to visit the publisher's website.
Here is the list of the first six books I read this month, in chronological order:
1) Siren's Fury by Mary Weber – Genre: young adult fantasy
Publisher's Description: Nym risked her life to save Faelen, her homeland, from a losing war, only to discover that the shapeshifter Draewulf has stolen everything she holds dear. But when the repulsive monster robs Nym of her storm-summoning abilities as well, the beautiful Elemental realizes her war is only just beginning.
Review: This is the second book in the Storm Siren trilogy that I started in January. It picks up exactly where Storm Siren ends, thankfully, since it ended on a major cliffhanger. However, one thing I didn't like about this author's writing style is that she reiterates, word for word, almost the entire last page or so of the previous book instead of simply giving a brief recap. I found this annoying as a reader, since I had just finished reading book one minutes earlier, but it might have been helpful if I had had to wait a full year between books when the series was first being published. As for the novel's plot, I found it pleasantly infuriating as Nym struggles to save someone she loves before their soul is completely destroyed by Draewulf, the once-human monster who uses his unnatural magic to possess people in the pursuit of more power. Draewulf has secretly possessed the new ruler of Nym's home country's long-time enemy and newfound ally, so in addition to trying to kill Draewulf while saving his current vessel, Nym must also work to prevent the newly ended war between their countries from reigniting. My favorite part of this book was the young boy, Kel, we're introduced to, because he is so brave, rambunctious, and very entertaining. However, I have to admit that I did not like the book's ending. To me, it felt too much like a deus ex machina moment, and we're given virtually no explanation as to how/why it happens.
Timeline: Although I was rather invested in finding out if Nym succeeded in saving her friend, and while the audiobook was only 10 hours long, it took me four days to finish reading it.
Rating: 3 out of 5 stars
2) Siren's Song by Mary Weber – Genre: young adult fantasy
Publisher's Description: After a fierce battle with Draewulf, Nym barely escaped with her life. Now, fleeing the scorched landscape of Tulla, her storm-summoning abilities are returning; only . . . the dark power is still inside her.
Review: The third and final book of the Storm Siren series, this one begins the same way the second one did: by giving a word-for-word recap of the ending of the previous book. I thought perhaps that reliving the ending would make it less confusing and provide more explanation that I may have missed the first time around, but no, it did not. Nevertheless, I was intrigued by the revelations we learned about Draewulf in book two, so I wanted to see how Nym and her friends tried to free their world from his enduring influence. I liked that we get to see more world building in this book as Nym's hero's journey comes full-circle, but overall, I didn't particularly care for this book. It is a good conclusion to the storyline, but it never really captured my attention or made me invested in what happened.
Timeline: Since I wasn't very interested in it, and since I had my medical emergency in the midst of listening to its audiobook, it took me five days to read this book.
Rating: 2.9 out of 5 stars
3) Royal Valentine by Jenn McKinlay – Genre: adult contemporary holiday romance
Publisher's Description: A fun rom com novella from Jenn McKinlay.
Review: As you can probably guess from the title, this novel is a Valentine's Day romance. The first book of the A Museum of Literature Romance series, it's good for fans of bookish reads. The novel follows Molly Graham, the registrar for the Museum of Literature who has become disenchanted with love after many failed relationships. That is, until she meets Albert George, a British professor whom she hits it off with while hiding out during a Valentine's Day Jane Austen event at the museum. After a month of seeing one another, she's ready to tell him how he's changed her outlook on love, but then he ghosts her. Out of concern, she tries to track him down, only to find that "Albert George" doesn't exist. When Molly is then sent to England to return the museum's borrowed Austen exhibit to an Earl Whitmore, she's surprised that she recognizes his grandson—Viscount James "Jamie" Albert George Insley Whitmore. Thus begins a complicated inner- and inter-personal conflict as Molly channels her inner Elizabeth Bennet and she tries to resist Mr. Darcy's—ahem, Jamie's—efforts to win back her heart.
Timeline: This was a very quick read. At only 105 pages, I easily read it in less than a day.
Rating: 3.4 out of 5 stars
4) Star Wars: The Battle of Jedha by George Mann – Genre: adult science-fiction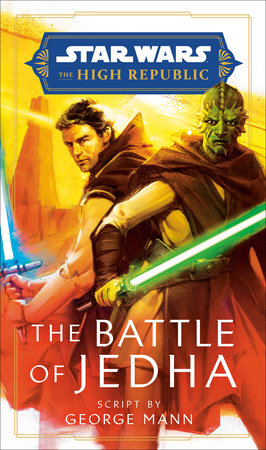 Publisher's Description: After the events of The High Republic: Convergence, the Jedi travel to Jedha in this Star Wars audio original The Battle of Jedha.
Review: Although this is a short, audio production, it is considered book two of the Star Wars: The High Republic Phase Two adult series, even though it doesn't follow any of the characters we were introduced to in the first book. If you recall, at the beginning of the year, I read Convergence, book one of the series, which I thoroughly enjoyed. This book picks up shortly after the end of the first, with the Jedi tasked with traveling to the supposedly neutral world of Jedha, a moon with a strong Force connection that is home to many factions who worship it. The Jedi are there to mediate the signing of a peace treaty between Eiram and E'ronoh, the two planets from the first book who were previously at war with one another. However, someone is apparently dead set against the peace as the signing is attacked and violence breaks out all over Jedha. In order to salvage the peace, the Jedi must find the culprit and bring them to justice before the war begins anew and the religious communities of Jedha are also brought into it. My favorite part of this audiobook was probably the full cast of voices. That, plus the sound effects and its fast-paced action, made it very compelling. Let me put it this way: my grandmother, who has never watched Star Wars or read any other Star Wars books, was even engrossed in this story and demanded to listen to it as she drove me to and from work.
Timeline: For a Star Wars book, this was quite short: only 5 hours long. Even with just listening to it when we were in the car, it only took me two days to complete.
Rating: 3 out of 5 stars
5) Rebel's Blade by Frost Kay – Genre: new adult fantasy
Publisher's Description: Kings and lies have one thing in common – they kill.
Review: This is the first book in The Aermian Feuds series, which was recommended to me by the same friend who recommended The Girl Who Fell Beneath the Sea and the Strom Siren trilogy. It follows Sage Blackwell, a secret swordsmith and member of the rebellion who seeks to free Aermia from a crown that sits idly by while their enemies attack villages, pillaging and burning them and kidnapping citizens. When Sage is caught by none other than Tehl Ramses, the Aermian crown prince, she must protect her family and the rebellion at all costs. The book also gives us the dual point of view of Tehl, a crown prince who actually hates his station and whose responsibilities weigh heavily upon him. His heart bleeds for his hurting kingdom, but he struggles to balance protecting his subjects while remaining loyal to his mentally unsound father, who checked out on his kingdom and family long ago. It is Tehl's difficult task to try to quell the rebellion and keep his father's mental state a secret from the masses. When Sage is starved and abused by soldiers in the dungeons, she is unexpectedly rescued by the very people she has sworn to destroy. As Sage learns more about Tehl, his brother, and his father, she begins to reconsider her long-held beliefs and her position in the rebellion. My favorite thing about this book is Tehl. His character is refreshing because he is awkward and so unlike the traditional cocky princes prevalent in the fantasy genre, making him more relatable and likeable, in my opinion. I definitely recommend this to fantasy fans.
Timeline: This book was quite unique and intriguing, so I was able to read it in two days.
Rating: 3.5 out of 5 stars
6) Crown's Shield by Frost Kay – Genre: new adult fantasy
Publisher's Description: Betrayal and trickery come at a price…
Review: Book two of The Aermian Feuds series, this one picks up exactly where the first book lets off. As Tehl learns who Sage is and about her role in the rebellion, he must look past his anger and the unexpected feeling of betrayal to recognize their shared goals. Sage, too, must reconcile working with people she had sworn never to see again in order to attain a better future for her family, friends, and country. Both Tehl and Sage long for peace for Aermia, but they have to determine if avoiding civil war is worth becoming allies—and possibly more. What I particularly enjoyed about this novel was its twist on the enemies-to-lovers trope, since Tehl and Sage continue to dislike each other, even while he becomes more concerned for Sage's feelings, which is something he does not understand in the least. I will warn you, though, this one ends in a pretty major cliffhanger, so you will definitely want to have book three available for when you finish reading this one.
Timeline: I found this book just as intriguing as the previous one, and was able to read it in two days, as well.
Rating: 3.4 out of 5 stars
What are your thoughts on these books? Share in the comments below!
Check back soon for part 2.